Community Firefighter Recruitment
Successful recruiting begins at home.
Effective promotion and candidate engagement within your community not only builds trust with local citizens and fosters partnership between first responders and the community, it reaches potential candidates from underserved populations, improves diversity, and encourages a community-oriented department that mirrors the local population.
FirefighterApp will focus and organize your recruitment efforts and assist with:
Career fairs & informational sessions
Advertising & job board postings
Social media promotion and engagement
Recruiting partnerships with civic organizations and local leaders
Engaging prospective applicants
Tracking your recruitment and promotional efforts
FirefighterApp includes several features designed to improve community recruitment:
Website Integration: The FirefighterApp website integration tool enables your department to display your job opportunities right on your website. This feature increases your reach with local candidates who visit your department website to look for job postings and enables them to begin the application process with a single click. Website integration also makes it easier to manage your active positions—if you edit your position in FirefighterApp.com, it will be updated on your site in real time.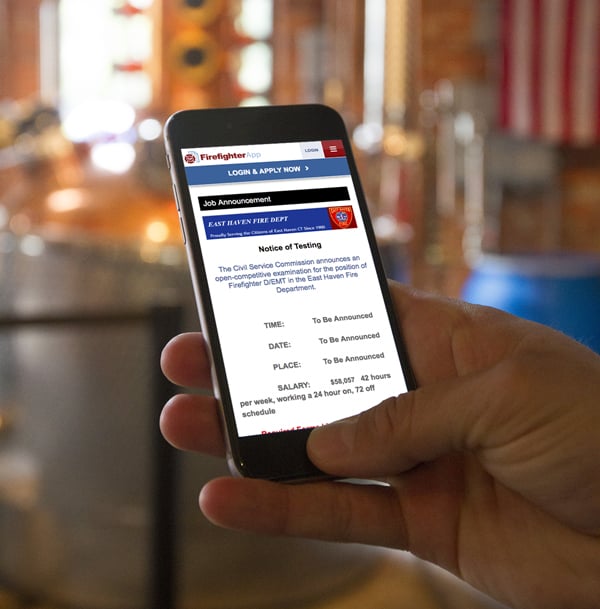 Recruit Lead Management (RLM): This valuable tool will allow you to collect and manage prospective applicant leads at career fairs and other local recruitment efforts. The leads will be collected in your department dashboard and you can send current and future job openings, track if they applied, and evaluate your recruitment efforts.
You can also use RLM to build your recruitment team by making the tool available to civic organizations and community leaders. Each team member can create their own personalized email that will be sent to prospective applicants who submit their name and email. RLM can be used on any smartphone, tablet or laptop.
Email Capture: You should always be recruiting, even if you're not currently accepting applications. The email capture feature enables departments to collect contact information from potential applicants on an ongoing basis, to be collected in an applicant database and notified of future opportunities.